Radiant Floor Heating Solutions
Radiant Heated Floor Options and Radiant Heat for Exterior Applications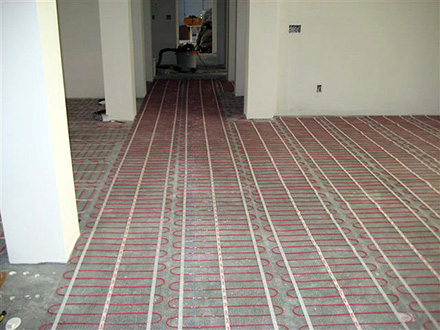 Warmzone specializes in premier radiant heating solutions and offers a wide variety of the finest products available in both low- and line-voltage systems. Founded on the principles of superior customer service, Warmzone includes professional system design services as well as free installation training and post sales installation support. Let our experts design your radiant heat system. Call 888-488-9276 to speak to a consultant today.
Warmzone offers a wide variety of technologically advanced radiant floor heating and snow melting solutions. Your surroundings will become more comfortable and effortless when you choose to install Warmzone's floor warming, roof deicing, snow melting, and total space heating systems. The large selection of radiant heat systems we carry ensures that you'll find the best system for your specific needs - for both residential and commercial applications. Floor heating systems can be installed under virtually all types of floor coverings, including wood, tile, carpet, and marble.
A Few Benefits of Radiant Heat
● Warm your entire home or supplement your existing heating system by efficiently warming specific rooms with luxurious radiant heat.
● Enhances your home heating with total in-floor space heating design.
● Provides fully automated snow melting to keep your driveway clear of snow and ice 24/7.
● Prevents roof and water damage with a maintenance free, automated roof deicing system.
In addition to heating floors and basements, radiant heat systems are available for all types of projects. Radiant heat is commonly used in snow melting applications such as building entrances, pedestrian bridges, disability ramps, elderly care facilities, parking ramps, loading docks, nursery floors, roof deicing, and more.
ComfortTile Floor Heating System
ComfortTile floor heating systems are Warmzone's most trusted and recommended floor heating options. The floor heating system consists of thin heating cable that is available on spools or in mats (shown in photo top right), where cable is pre-spaced on a flexible mesh with adhesive backing. These floor heating mats make installation quick and easy. A selection of the industry's most advanced programmable and non-programmable thermostats is available to control the system. Each room (or zone) can be controlled individually by its own thermostat, making these systems extremely effective and energy efficient. ComfortTile floor heating systems are truly among the very best in class.
Prodeso® Floor Heating Membrane with ComfortTile Heat Cable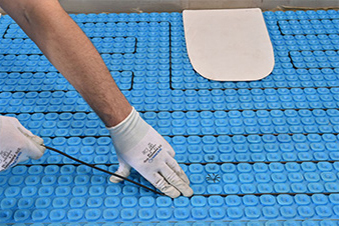 The Prodeso Membrane system is an innovative uncoupling and waterproofing system for heating floors without movement or expansion joints in the screed. The membrane comes in rolls and is placed directly over the subfloor and ComfortTile is then placed in the channels of the membrane. Once the heat cable is secure, the tile or other flooring surface can then be installed directory over the membrane and cable.
The Prodeso floor heating system combines the benefit of an underlayment membrane with the comfort and convenience of radiant floor heating. The Prodeso Heat Membrane can be installed over the entire subfloor as an uncoupling, crack isolating and waterproofing membrane. The underlayment membrane, heat cable and flooring components can all be installed the same day. The floor heating system has a minimal floor buildup of only 1/4 inch.
FloorHeat STEP, the Self-Regulating, Low-voltage Floor Heating System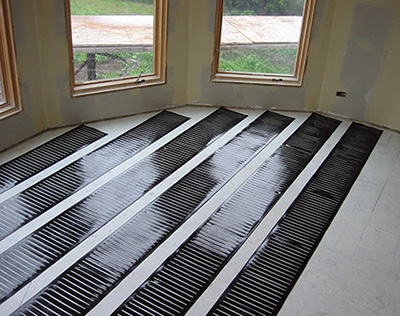 Slip off your shoes and soak up the heat of toasty warm hardwood floors. Whether you're building a new home, adding on to an existing home, or remodeling, the simplicity of our low-voltage radiant heat systems makes them easy to install.
FloorHeat STEP is another excellent floor heating option. This system features a thin, durable self-regulating, semi-conductive polyethylene heating element that can be installed directly underneath hardwood floors. Available in rolls 9 and 12-inches wide, the flexible heating element is most recommended for heating hardwood or laminate floors.
Because the FloorHeat STEP radiant heating system is low voltage, the hardwood will not discolor or be damaged due to excessive heat expansion and contraction. The self-regulating properties mean that when the ambient temperature rises, the electrical resistance increases and the consumption of electricity decreases. For this reason, the element cannot overheat. Additionally, no glycol (used for hydronic floor heating systems) is needed in the installation, which can cause hardwood to warp from moisture. The heating element can be cut to the desired length and field-wired on site and easily secured to the subfloor with adhesive or staples, facilitating quick and simple installation.
Features Include:
● Thin Profile and Innovative Design - The FloorHeat STEP heating element is a flexible polymer mat (only 1.2 mm thick), allowing easy installation with no floor buildup.
● Advanced Technology - The advanced low-voltage heating element's self-regulating properties make it safe and very energy efficient.
● Energy Efficient - The self-regulating attribute means that when the ambient temperature rises, the electrical resistance increases and the consumption of electricity decreases.
● Innovative Design - Due to its innovative polymer design, the self-regulating heating element acts as a sensor on its whole surface that prevents the system from overheating.
● Versatile and Maintenance Free - The heating element can run on either AC or DC current and has no moving parts, making it virtually maintenance free.
FloorHeat STEP is an excellent solution for heating hardwood floors because it is self-regulating, and so thin that it will not affect your floor buildup, weight loads, or your flooring choices. Its durability and versatility also make FloorHeat STEP perfect for remodeling jobs and retrofit applications. For heating tile, marble and slate, ComfortTile floor heating systems are still the most highly recommended.
Exterior Radiant Heat Applications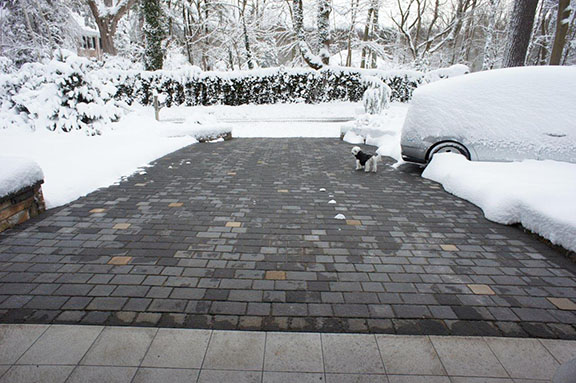 Is your vision of a snowy day one of sitting by a cozy fire while you read the newspaper, or is it one where you wake up early to shovel your driveway before work? Why not relax in the mornings and let a radiant snow melting system clear your driveway for you? In addition to the convenience of radiant heat, your liability at your business will also decrease as your walkways and steps are automatically kept clear of snow and ice.
Radiant snow melting systems are fully automated, and only operate when conditions warrant. An advanced snow sensor (activation device) detects the temperature and moisture in the air, and triggers the system at the onset of a storm, warming the driveway just as the first snowflake falls. You can have peace of mind knowing that wherever you have installed a Warmzone snowmelt system, slippery and dangerous ice is a thing of the past. Warmzone custom designs radiant heat systems and provides expert installation training and support, so your driveway, walkways, patios, steps, etc., will remain clear of snow and ice all winter long.
Call a friendly radiant heat expert today to learn more, at 888-488-9276.